Federico Dantoni
Biography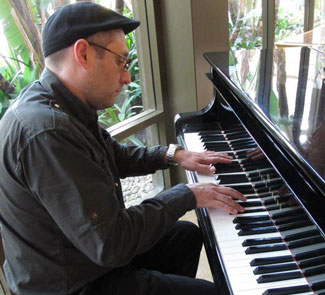 Music producer, composer, and educator, Federico D'Antoni, was born in Argentina and is the son of a very talented Argentinian trumpet player. As the son of a musician, it was almost inevitable that he would discover a love for music. At the age of 5, Federico's musical talent began to become apparent when he was able to play the melodies of his favorite TV shows with his accordion.
As a teenager, Federico was already fluent in Tenor and Alto Sax, Flute, Organ, and Keyboards. During his teen years, he studied the new emerging technologies at the time including samplers and sequencers with producer Charlie Smuggler in Buenos Aires. Federico attended the college of music in 1987, at UCA for music composing and conducting.
He went on to continue his studies on Modern Harmony with the guitar player, Daniel DeNegri, and later with Armando Alonso a professional guitar player in the jazz circuit and director of the Avellaneda university of music, in Buenos Aires. While studying Modern Harmony, Federico was also getting classically trained, at the UCA University in Argentina.
At a young age, Federico was already making a living off music. He had his jazz show in which he played tenor and alto sax, at the same time he was playing for other bands, recording sessions, and television shows. He played alto sax with Los Pericos, a popular Argentinean reggae band. In fact, in 2014 while the band was touring the US, they invited Federico to play tenor sax in their show in Chicago.
In 1992, Federico got signed by PolyGram Records with the band Spanish Fly. They went on tour through North and Latin America sharing the stage with artists such as Liza Minelli, Peter Frampton, Tito Puente, and many others. They also performed in many high-profile events, such as the World Cup and private parties for celebrities such as actress, Sandra Bullock and film director, Oliver Stone.
Music Producer and Sound Engineer
In 1995, Federico D'Antoni started composing original music and sound design for films and TV commercials such as Coca-Cola; Kellogg's; MasterCard; McDonald's; Tampax; Toys R' Us; Western Union; among others. In 1997 he opened Planet Sounds Recording Studios along with his sister, Dinah D'Antoni. Planet Sounds were one of the first Pro Tools facilities in Chicago.
In 2002 Federico composed original music for a Coca-Cola commercial for the "World Cup 2002" campaign which he recorded with the Chicago Symphony Orchestra at Planet Sounds. In 2003, he received a Golden Award for "Best Commercial of the Year" for his work in the Hispanic Churches Association campaign. He also composed music for the McDonald's campaign "I'm Loving It".
Aside from his work as a composer and as a recording engineer Federico was also teaching digital recording at his studios Planet Sounds, helping other engineers get up to speed with the new technologies. He kept up to date by attending audio engineering national conferences every year, and he also went to Berklee School of Music where he studied music production and sound design with programmers from Roland, Korg, and Yamaha.
He was privileged to have taken part in recording and performing with Playing for Change on the Starbucks 2009 Red Campaign "All you Need is Love" to help fight AIDS in Africa. During the campaign, he also performed with the Playing for Change Band live at the Bonnie Hunt Show in Los Angeles. Also, he recorded the organ on one of the tracks of the 2014 album "PFC3".
Federico is a member of the American Engineer Society, a voting member of the National Academy of Recording Arts and Sciences (Grammy Awards), Federation of Musicians, ASCAP and AFTRA. His tracks can be found on films such as Imagine This; Once Upon a Time in the Hood; Latin Dragon; Puños Rosas; some of his music is also featured in one of the episodes of US TV show "The Unit.
Discography